Veg Out! 10 Sensational Summer Salads
Aug 18, 2015, 19:21 PM
Why is it that the final days of summer always seem to be the hottest? Everyone wants to soak up the last bit of the season, but scorching temperatures tend to dictate what we can and can't do – especially when it comes to meals. Most, (ourselves included), will avoid cooking in this heat. Having the oven on for hours, broiling a roast, doesn't do anyone any favors. It contributes to the temperature of the home, making it considerably warmer, and a pot roast isn't really the most refreshing meal after a long day in the heat.


Ordering in every night may be convenient and doesn't require any cooking, but we've got an even better idea: summer salads! Check out these delicious, nutritious, and best of all cool, recipes and save your money and your waistline. We've got ten tasty salads that you and your family are sure to enjoy. Check them out below!


Tomato, Cucumber & Avocado
– Seems like avocado's being added to everything these days, and for good reason! This veggie is yummy and crazy good for you. Pair it with some cherry tomatoes, cucumber, feta cheese, and light dressing, and you've got yourself a seriously awesome salad.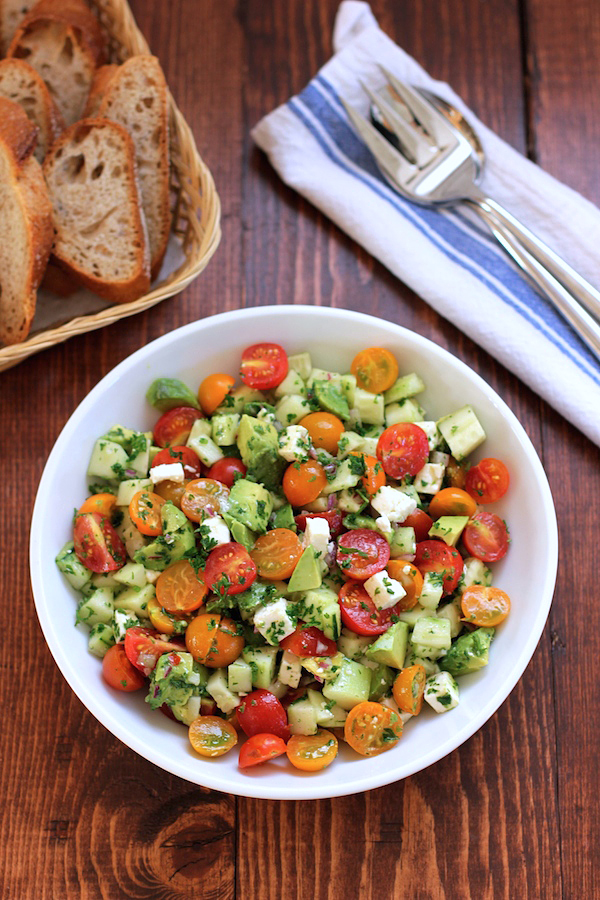 Spinach & Tortellini
– We love this unique pasta salad. It's creamy, crunchy, and filling. Bring it to a potluck, or keep it all to yourself. We're sure this dish will be a hit, whatever the crowd.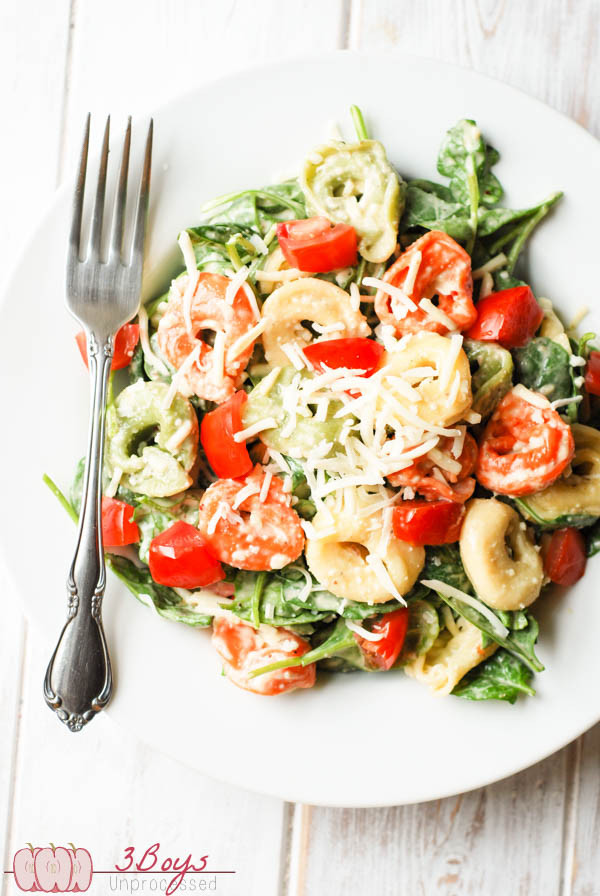 Grilled Peach & Arugula
– We're big fans of sweet and savory combinations, and this salad mixes these flavors well. Not only does it look beautiful with its blend of green, blue, peach, and white, but it tastes great.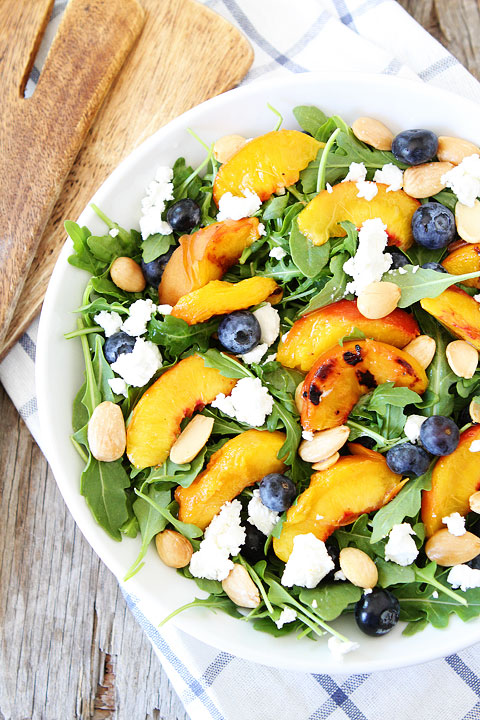 Strawberry Avocado Couscous
– Ah couscous, the dish so nice they named it twice (sorry, little couscous humor for you). Anyway, this salad has everything: grains, veggies, and fruit. Best of all? This dish is a snap to make!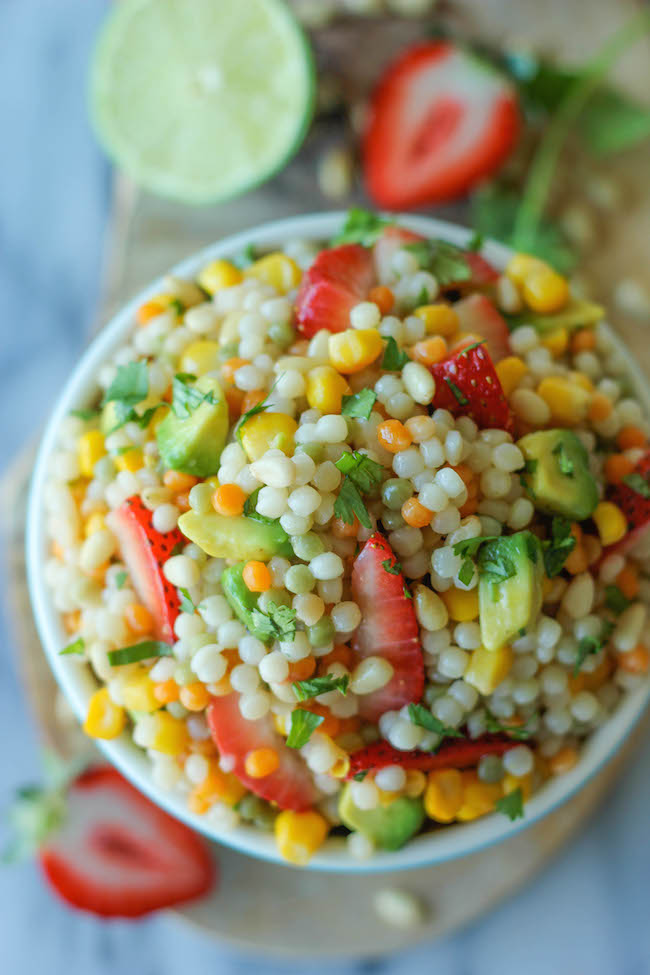 Roasted Chickpeas & Zucchini
– Ok, this recipe does call for roasting, and you know what that means: turning the over on. If it's way too stinking hot for that, save this salad for fall. Trust us, it's worth the wait.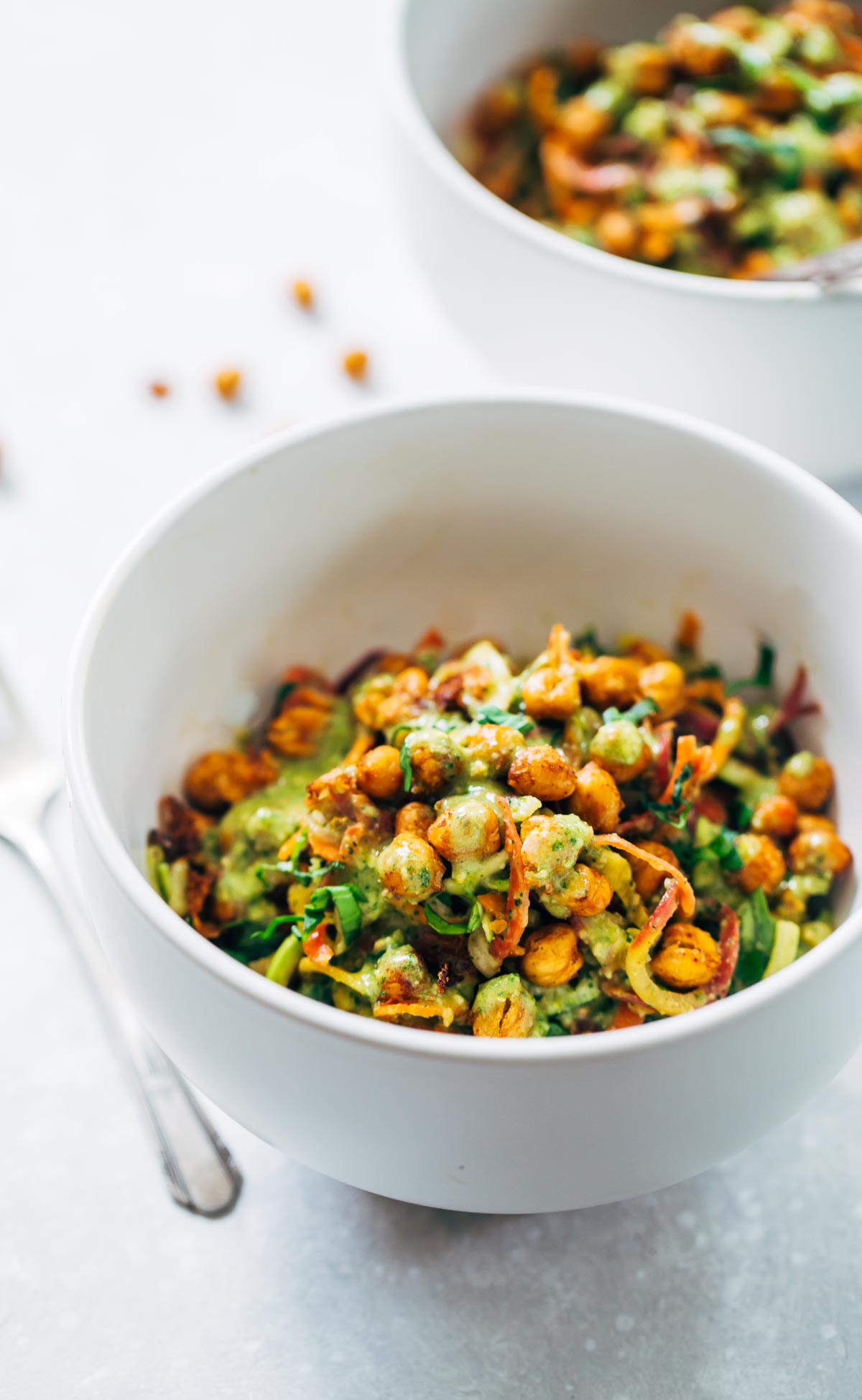 Ramen Noodle
– Skip the roasting in this recipe to save on time and also so you don't sweat to death. We find the noodles to be plenty crunchy on their own. This cute east meets west creation is totally delicious and super simple to make.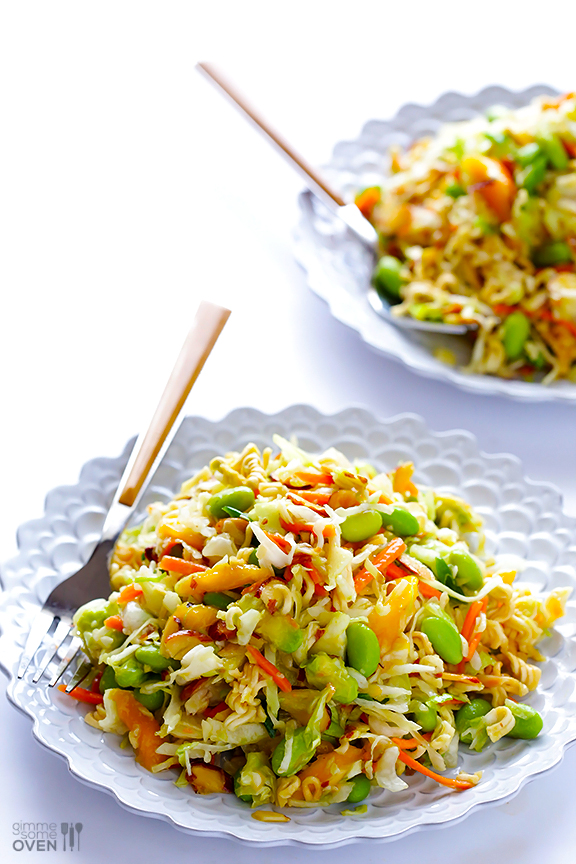 Israeli Salad
– This is one zesty treat. Finely chopped cucumbers, onions, peppers, and tomatoes combine with olive oil and lemon to create a truly refreshing dish. Top with chicken, or don't, it's up to you.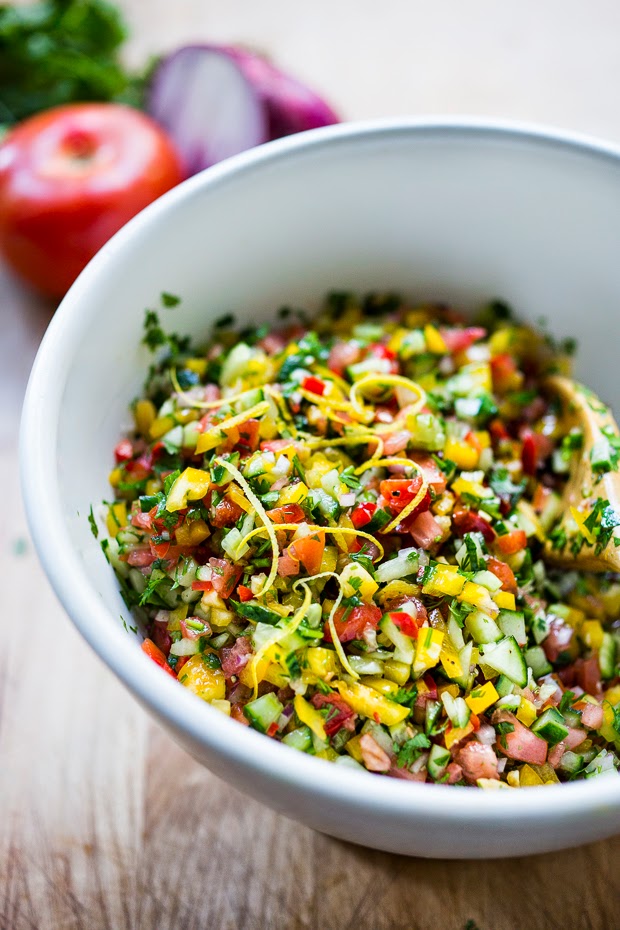 BLT Pasta Salad
– Who doesn't love BLTs? Adding bacon makes just about any dish better. Instead of your traditional bacon, lettuce, tomato on bread, throw out those buns, do a little chopping, and add some pasta. It's such a fun variation on this classic sandwich.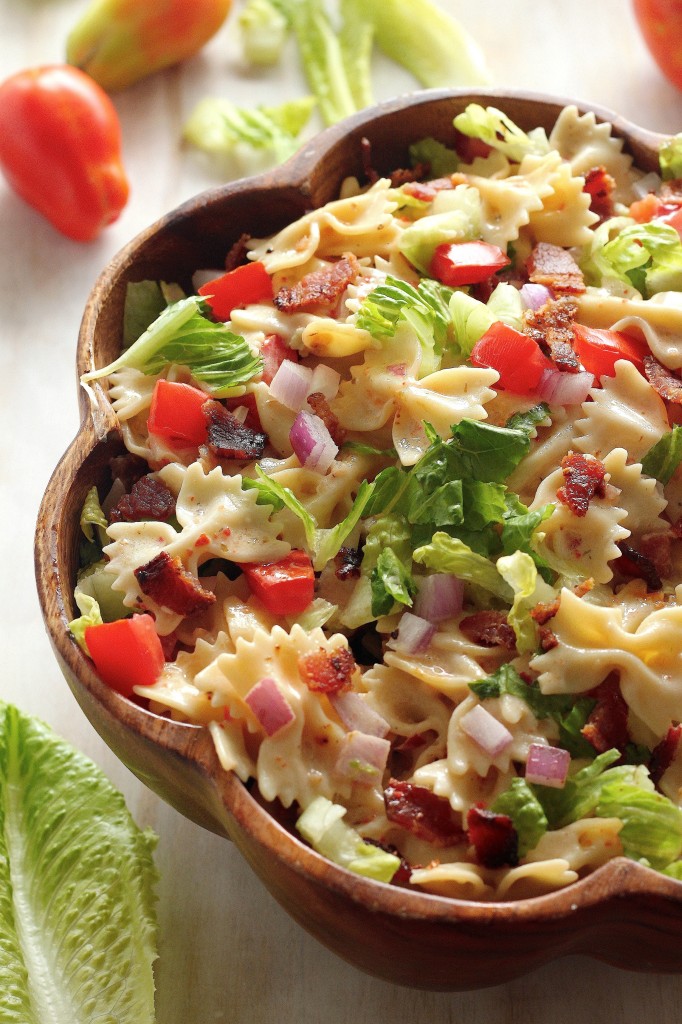 Spicy Sweet Potato
– This unique dish combines sweet potato, beans, tomatoes, avocado, and a little bit of heat. No, we're not talking about turning on your oven, it's time to hit the spice rack instead. Cumin and chili powder kick this dish up a notch, and we're digging it.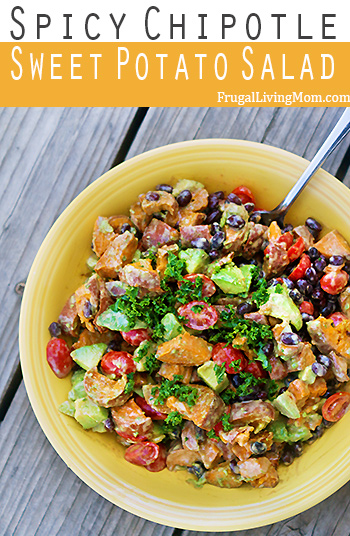 Blackberry Bacon Blue Cheese
– Not only is this salad fun to say (who doesn't love alliteration), it's also fun to eat. Blackberries, bacon, and blue cheese combine in the ultimate sweet and savory salad. What a sublime dish!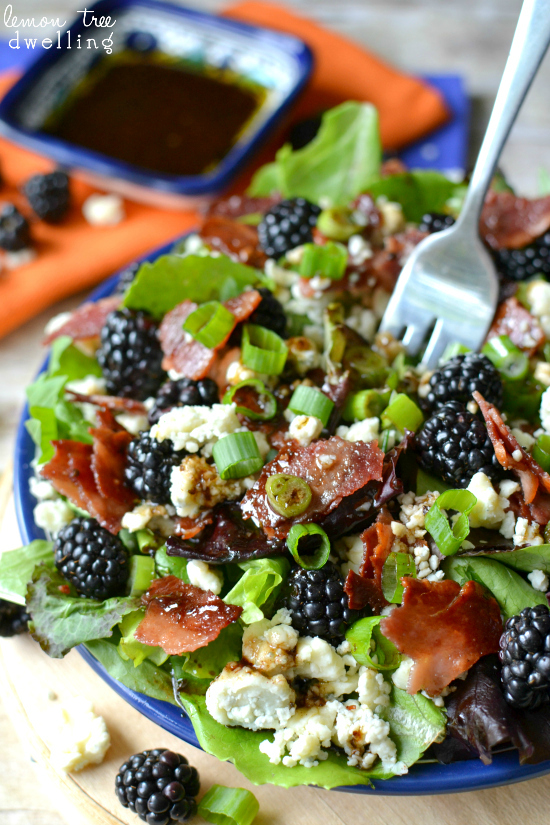 We hope these delicious salads help keep you and your family fed and cool for the rest of the
summer. Have a favorite salad we didn't feature here? Share the recipe and some snaps of it with
@HomeShows
on
Twitter
and
Instagram
. We're always looking for new dishes to try!

Speaking of cool ideas, here's another: get your Marketplace Events Home Show tickets early to save big! Right now, you can
get 2-for-1 tickets on Facebook
. Treat a friend or family member to the show - we can't wait to see you there!