Welcome to the Winnipeg Renovation Show!
Welcome back to the Winnipeg Renovation Show!
As we ring in the new year, homeowners and renters alike are looking for easy ways to upgrade their homes, refresh their space and tackle those renovation projects that have been sitting on the back burner. With real advice, real inspiration, and real experts, we've handpicked the industry's best, from top celebrity guests to homegrown local talent to help Winnipeggers get the job done. It's a new year and it's time to start breaking ground!
This year, we're thrilled to welcome back Winnipeg favourite, HGTV Canada star Bryan Baeumler of Island of Bryan, appearing on The Lifestyle Stage presented by Vesta Custom Design and the Winnipeg Free Press. Bryan will share advice for increasing the value of any home, spill a few behind-the-scenes stories from his hit TV shows, followed by a Q+A where attendees can ask the man himself their renovation questions. Plus, don't miss Winnipeg's own Curtis Breslaw of All Canadian Renovations and Shonna Peitsch of Vesta Custom Design, along with a slew of other local experts.
For the first time at the Show, Winnipeggers will be able to explore revamped and renovated travel trailers with RV's Reimagined presented by ReVolution Trailers. This new Show feature will showcase tired, out-of-date, or broken travel trailers transformed into something extraordinary. Get inspiration for your forgotten trailer and for your next summer adventure.
From there, shop and consult with hundreds of trusted brands and local companies, all under one roof. Don't miss the popular Ask a Renovator booth presented by The Manitoba Home Builders' Association and RENO+DECOR Magazine or The Design Studio presented by Style Manitoba, designed by OM Staging and sponsored by Cloverdale Paint, where you'll have the chance to drop in for a free, one-on-one consultation with a local expert. Gather ideas, and come with an open mind to get the best tips for your time.
Tackle your project with our experts at the Winnipeg Renovation Show, returning to the RBC Convention Centre January 13-15, 2023. Discover the latest home renovation trends and get practical advice from hundreds of experts. From kitchens and baths to flooring and more, find great deals, new ideas, and inspiration for all your home projects and don't forget to buy your tickets early and save $2 at www.winnipegrenovationshow.com.
We can't wait to see you there.
Kayla Donaldson, Show Manager
Top Features
THE LIFESTYLE STAGE presented by Vesta Custom Design and the Winnipeg Free Press
Expert advice for all your projects! Get it straight from the source on The Lifestyle Stage, where Bryan Baeumler, star of HGTV Canada's Island of Bryan, and local pros alike will present their tips and tricks to get those stalled projects and imaginations moving. Whether you're looking for home improvement recommendations, entertainment ideas or simply inspiration for a future project - we will have it all.

ASK A RENOVATOR presented by the Manitoba Home Builders' Association and RENO+DECOR Magazine
Do you have a long list of renovation queries? Have all your pressing questions answered at Ask a Renovator where you will have access to the city's top home improvement experts. Drop in for a FREE 15-minute consultation. You will leave knowing how to start making your dream home become reality, without any disasters.

THE DESIGN STUDIO presented by Style Manitoba, designed by OM Staging sponsored by Cloverdale Paint
Whether you have a 'problem' room in your home or need some help refreshing a new or existing space, look no further than The Design Studio. Inspiration is a-plenty, where decorator and designer industry pros will help turn your aspirations into a reality. Showgoers can enjoy a FREE 15-minute consultation that will have you turning your house into a home in no time.

THE LOUNGE presented by RW Staging & Design and Blue Rose Interiors
Take a load off and treat yourself to a stop at The Lounge, where style and comfort meet. Sip your favourite cocktail, while taking in the sights and sounds of this year's Show. Make sure you don't miss Saturday night, when live music by Sam Gardner will be playing from 5pm – 8pm!

M(ART)KET
Sometimes the finishing touches can be the hardest part of a renovation which is where m(ART)ket comes in. Dress up your walls with one-of-a-kind pieces from this curated collection of prints, canvases and photographs. With a multitude of local artists including Jerry Rubin Artwork, Rosella Farmer Art, Eric Ouimet Studio, Denise Lebleu Images, and Created by Laura Gross, you can enhance your home and impress every person that steps through your door– most importantly yourself!
RV'S REIMAGINED presented by ReVolution Trailers
Adventure awaits! ReVolution Trailers takes tired, out-of-date, or broken travel trailers and turns them into something extraordinary, all well keeping them out of the landfill. Showgoers will be able to explore unique trailers in the midst of renovation and in their post-renovation glory. Find inspiration to dress up any forgotten trailer and get set for summer!
Meet the Experts
Bryan Baeumler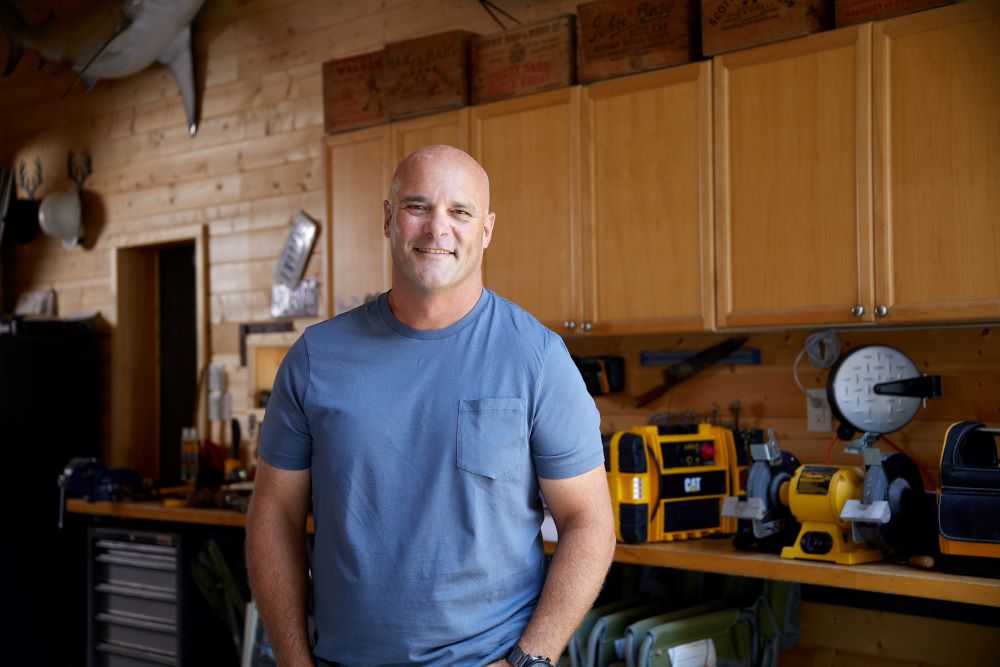 Celebrity Contractor + TV Host
Instagram: @bryanbaeumler
Twitter: @Bryan_Baeumler
Bryan doesn't believe he's put in an honest day's work unless he gets his hands dirty! A natural-born teacher, the Gemini-award winning host has been educating and entertaining viewers across Canada and the US since 2007. Bryan's TV journey started with the hit shows Disaster DIY, Canada's Handyman Challenge and Leave it to Bryan. In 2010 Bryan was joined by his wife Sarah where the couple let viewers into their life with the filming of The House of Bryan Series, Bryan Inc. and HGTV Canada's #1 rated show, Island of Bryan. Bryan's quick wit and easy-going personality have made him a huge hit with viewers leading to record breaking ratings.
Learning valuable tricks of the trade from his father, a meticulous aircraft engineer, Bryan spent his childhood summers building his family's cottage from the ground up. His entrepreneurial spirit emerged at the age of 14 when he opened his own handyman business doing odd jobs for neighbours.
With so much of his youth invested in building, it's hard to believe Bryan's life almost took a completely different turn. After earning a dual degree in Political Science and Business at The University of Western Ontario, Bryan was headed towards a career of practicing law. Realizing he'd rather be renovating than being chained to a desk, his innate passion for building took over and he traded in his tie for a tool belt and founded Baeumler Quality Construction.
Almost 2 decades, a beautiful family and numerous hit shows later, Bryan continues to tackle home renovation projects, be the spokesperson for various brand partners all while he and Sarah continue to expand the Baeumler brand. His drive, work ethic and focus have enabled him to achieve ongoing professional success while maintaining his family first focus and being a caring husband and father. For more information about Bryan, visit bryanbaeumler.com.
See Bryan Baeumler on The Lifestyle Stage, presented by Vesta Custom Design and the Winnipeg Free Press:
Friday, January 13 at 6 p.m.
Saturday, January 14 at 1:00 p.m.
Show Sponsors:
All Canadian Renovations LTD.
Sleep Country
RenovationFind
Cloverdale Paint
Steinbach Credit Union
Vesta Custom Design
RW Staging & Design
Blue Rose Interiors

Show Partners:
Manitoba Home Builders' Association
Better Business Bureau Serving Manitoba & NW Ontario
ReVolution Trailers
Advance Exteriors & Renovations
OM Staging Co.
Peachy Green Events
Winnipeg Free Press
Style Manitoba
RENO + DECOR Magazine

The Vitals
WHAT: The Winnipeg Renovation Show
WHERE: RBC Convention Centre, 375 York Avenue, Winnipeg, MB R3C 3J3
WHEN:
Friday, January 13th: Noon – 9:00 pm
Saturday, January 14th: 10:00 am – 9:00 pm
Sunday, January 15th: 10:00 am – 6:00 pm
HOW: Buy tickets EARLY online and save $2 at www.winnipegrenovationshow.com
PRICING:
Adults Box Office: $13.00
Online Advance Adult: $11.00
Senior Box Office: $10.00
Seniors Online : $8.00
Half Day (entry after 4 pm): $6.50
Children 12 and under: FREE
SOCIAL:
Twitter: @wpghomeshows #WRS23
Instagram: @wpghomeshows #WRS23
Facebook: facebook.com/WinnipegHomeShows
Web: winnipegrenovationshow.com
Media Contact
Riley Carswell, Account Lead
kin.
604.681.7565 x108
riley@keepitkin.com