Welcome to the Winnipeg Renovation Show!
Welcome back to the Winnipeg Renovation Show!
We are thrilled to be returning this season after a year-long hiatus! As the weather continues to remain in the negatives and the thought of spending time outside is something you're only dreaming about, now is the perfect time to tackle those at-home projects and refreshers you've been wanting to do for the last year or so. With real advice, real inspiration, and real experts, we've handpicked the industry's best, from top celebrity guests and homegrown Winnipeg talent alike.
This year, we're thrilled to welcome HGTV Canada star Todd Talbot of Love it or List it Vancouver on The Lifestyle Stage presented by Kat Reno and the Winnipeg Free Press. Plus, don't miss a slew of Winnipeg's very own top designers and renovation experts including
Curtis Breslaw of All Canadian Renovations, Angie Kendel of Kat Reno and Al Keith of Ten Ten Kitchens.
While you're at the Show, check out Rejuvenation Row presented by Maric Homes, the perfect place to start your home project. Whether you're looking to undertake minor modifications or perform a total transformation, nothing is too small or too large for this group to handle. Stop by and meet the people behind the scenes of those dream renovations that are now within your reach!
From there, shop and consult hundreds of trusted brands and local companies, all under one roof. Don't miss the popular Ask a Renovator booth presented by The Manitoba Home Builders' Association and RENO+DECOR Magazine or The Design Studio presented by Style Manitoba, designed by J&J Dwellings and sponsored by Cloverdale Paint, where you'll have the chance to drop in for a free, one-on-one consultation with a local design expert. Gather your blueprints, floor plans, swatches and inspiration, and come with an open mind to get the best tips for your time.
Tackle your project with our experts at the Winnipeg Renovation Show, returning to the RBC Convention Centre February 18-20, 2022. Discover the latest home renovation trends and get practical advice from hundreds of experts. From kitchens and baths to flooring and more, find great deals, new ideas, and inspiration for all your home projects and don't forget to buy your tickets early, online at www.winnipegrenovationshow.com.
We can't wait to see you there.
Jill Kivett, Show Manager
Top Features
THE LIFESTYLE STAGE presented by Kat Reno and the Winnipeg Free Press
Expert advice for all your projects! Join HGTV Canada's Love It or List It Vancouver host, Todd Talbot along with local experts on The Lifestyle Stage, to learn tips to refresh, revitalize and reimagine your home this season. Whether you're looking for home improvement recommendations, entertainment ideas or simply inspiration for a potential future project - we will have it all.

ASK A RENOVATOR presented by the Manitoba Home Builders' Association and Reno+Decor Magazine
Do you have a long list of renovation queries? Have all of your pressing questions answered at Ask a Renovator where you will have access to the city's top home improvement experts. Bring your demo plans and blueprints to the Show and drop in for a free 15-minute consultation. You will leave knowing how to bring your dream home to life.

THE DESIGN STUDIO presented by Style Manitoba, designed by J&J Dwellings, sponsored by Cloverdale Paint
Whether you have a 'problem' room in your home or need some help refreshing a new or existing space look no further than The Design Studio. Inspiration is a-plenty, where decorator and designer industry pros will help turn your aspirations into a reality. Showgoers can enjoy a FREE 15-minute consultation that will have you turning your house into a home in no time.

THE EATERY: LEAVES & LIBATIONS designed by iDesign Interiors by Kristin
Trade the Show floor and your Show checklist for a lush and ethereal experience as soon as you step foot in The Eatery. Enjoy sipping on your drink and satiating your appetite all while being surrounded by an abundance of greenery. Designed by Kristin Hayward of iDESIGN interiors by Kristin, all that is required of you is to sit back, relax, and recharge before heading back for more renovation inspiration.

M(ART)KET
Sometimes the finishing touches can be the hardest part of a renovation which is where m(ART)ket comes in. Dress up your walls with one-of-a-kind pieces from this curated collection of prints, canvases and photographs. With a multitude of local artists, you can enhance your home and impress every person that steps through your door– most importantly yourself!

REJUVENATION ROW presented by Maric Homes
Your dream renovation is within reach - all it requires is a visit to Rejuvenation Row! Whether you're looking to undertake minor modifications or perform a total transformation, there is no home project too small or too large for this group to handle. Stop by to meet the team and find the latest trends, advice and professionals for when you decide to hit go.

INDOOR | OUTDOOR LIVING presented by Luxe Furniture Company
Create both an indoor and outdoor space that's on trend, but will remain in style for years to come at Indoor | Outdoor Living! Luxe Furniture Company shows you how to create a space designed to wow anyone who comes through your door. With indoor dining that makes a statement and outdoor living with the coziest of vibes, you'll be sure to find inspiration to decorate your space, whatever the season.
Meet the Experts
Todd Talbot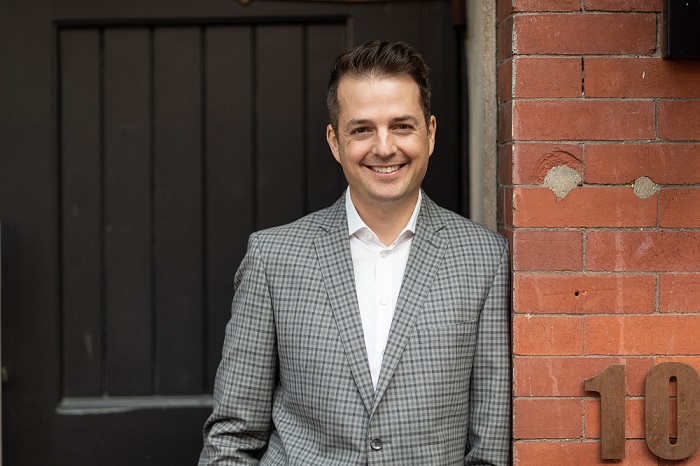 Instagram: @toddtalbot
Twitter: @ToddTalbot

With over 30 years of experience on stage and screen, Todd Talbot is a performer, presenter, and host who feels at home in any setting. Best known for his hosting duties on the hit television show Love It or List It Vancouver (titled Love It or List It, Too in the US), he's travelled throughout the US and Canada performing MC duties, speaking at home shows, and presenting at corporate and charity events. Whether in-person or virtual, recorded or off-the-cuff, Todd is committed to creating meaningful, captivating moments with lots of laughs along the way.
An entrepreneur from a young age, Todd also leads an experienced team helping clients buy and sell homes. He is a passionate voice for responsible home ownership that inspires positive changes in people's lives, encouraging everyone to be conscious of how we design, build and most importantly live, in our homes and communities.

One of Todd's latest projects has been kickstarting a lifestyle blog and storefront called Eh Frame. Inspired by his family's project cabin in the Okanagan Valley, what originally began as a showcase for the new build has grown into a community hub where the Talbots are sharing their story and offering tips to help others make their dream come true.
Presentation topic: Pandemic & Recreational Property Trends
Friday, February 18 at 6 p.m.
Saturday, February 19 at 1 p.m.
Show Sponsors:

All Canadian Renovations LTD.
Sleep Country
RenovationFind
Cloverdale Paint
KAT Reno

Media Sponsors:

Style Manitoba
SPACES Magazine
Winnipeg Free Press
Show Partners:
Manitoba Home Builders' Association
XL Flooring
iDESIGN interiors by Kristin
J & J Dwellings
Off The Wall Greenscapes
Academy Florist
Collective Event Rentals
The Vitals
What: The Winnipeg Renovation Show
Where: RBC Convention Centre, 375 York Avenue, Winnipeg, MB R3C 3J3
When:
Friday, February 18th Noon – 9:00 pm
Saturday, February 19th 10:00 am – 9:00 pm
Sunday, February 20th 10:00 am – 6:00 pm
RBC Convention Centre, 375 York Avenue, Winnipeg, MB R3C 3J3
How: Buy tickets online courtesy of All Canadian Renovations LTD and save $2 at
www.winnipegrenovationshow.com
Admission
Adult Box Office (13+): $13.00
Adult Online (13+): $11.00
Senior Box Office (60+): $10.00
Senior Online (60+): $8.00
Half Day (entry after 4PM) $6.50
Children 12 and under: FREE
Media Contact
Megan Howarth, Account Lead
Reformation.
604.681.7565 x103
megan@wearereformation.com