Home + Garden Trendsetter of the Year Finalist: Meet Serena Appiah
Mar 7, 2016, 19:10 PM
At the beginning of 2016 we encouraged local home, garden, and lifestyle bloggers to apply to become the
Home + Garden Trendsetter of the Year
. Taking over the reins from Leanne Lee, the
Diva of DIY
, this year's winner will receive a multi-show contract from Marketplace Events and much more.
After several entries and much deliberation, the results from the first round of the contest are in! Over the next few days we'll be introducing you to our three finalists: Serena Appiah, Allison Griffith, and Denise Sabia. First up, Serena Appiah!
SERENA APPIAH


Serena Appiah is the talent behind
thriftdiving.com
. Hailing from Maryland, this mother of three boys has been helping folks decorate, improve, and maintain their homes on a DIY budget since 2010. Serena loves power tools, thrift stores, creating, inspiring, and teaching. She'll be bringing her home improvement know-how and thrift decor ideas to the
Denver Home Show
. Will she take home the title?
We sat down with Serena to help you get to know her a little better. Check out our fun Q&A below and get ready for Serena to make a splash at the Denver Home Show!
Q: If you could be gifted with one super power, what would it be?
Serena
: "If I had one super power, I would be invisible! Not because I don't like to be seen, but because I could go anywhere and see anything, without being detected! I'd be able to see the real truth behind everything. Not to mention that I could check up on my children to see if they really are behaving in school!"
Q: What was the best party you've ever attended and why?
Serena
: "The first year that I attended the Haven Conference in Atlanta (the annual DIY conference for bloggers), I danced and danced the night away! You can see me in the center of the crown, gettin' down with blogger friends! It was so exciting because not only was it a chance to have fun without the hubby and kids in tow, but I had felt so inspired to take my blog to the next level that weekend. I couldn't contain my excitement! And wouldn't you know when the following year's conference rolled around, everyone remembered me as the girl who danced all night. What a way to be memorable, eh?"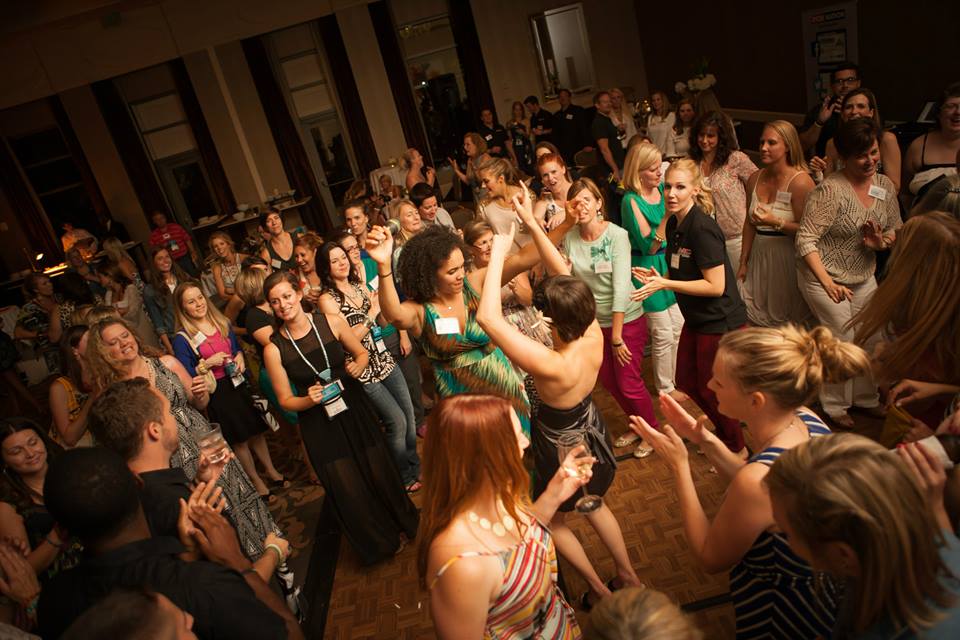 Q: If you had to give up Facebook or Instagram, which would you pick?
Serena
: "Instagram would be gone in a flash! I can't keep up with the perfection that Instagram requires! LOL. Instagram is supposed to be about pretty feeds, but my audience knows how much I love an "ugly" before picture! People welcome the "ugly" on Facebook; they just connect with it! Since most of my DIY furniture makeovers and room makeovers start with dirty, thrifted furniture and not-so-pretty rooms, Facebook is definitely the platform where Thrift Diving thrives!"
Q: What has been your most embarrassing fashion choice?
Serena
: "Last summer, while shopping with my best friend, I mentioned I may have wanted to look for some new jeans. She quickly agreed with my decision and said, "Oh yeah—because those jeans you're wearing right now are hideous." My mouth gaped open wide! I couldn't believe my always-too-truthful-friend had put it so harshly! Were my favorite Lucky Brand jeans so horrible?? I didn't think so. To this day, I still wear them, but I'm also cognizant that they'd once been deemed "hideous." LOL. I still love them, though."
Q: What should homeowners look for when it comes to working with a contractor or interior designer?
Serena
: "I absolutely love Angie's List for finding contractors and any professionals related to home services. You've got to know what other people are honestly saying about those professionals. Angie's List includes real feedback from real homeowners. Things I look for is what grade do they have? I only hire grade "A" contractors. Are people saying they're trustworthy and honest in their pricing? Do they show up on time? Do they treat customers respectfully? I also look for professionals that have not just positive feedback, but lots of that feedback, because the more feedback, the better assessment you can make."
Q: What's one thing that we wouldn't guess about you?
Serena
: "You'd never know it, but I've been a vegetarian for 16 years! I'm not a super-crunchy, tree-hugger, but I do have compassion for animals, and I feel that there are healthier choices of food to eat. People always ask if I crave meat, and the answer is, "Nope!" There are so many tasty alternatives to meat, I never crave the real thing!"
Q: What's your favorite space to makeover and why?
Serena
: "Show me an ugly bathroom, and I'm all over it! Bathrooms are fun because usually it's a smaller space where you can be bolder and decorate outside of your comfort zone. I generally love soft, comforting colors when it comes to most living spaces, but bathrooms are spaces to unleash your inner "wild child" decorating ideas!"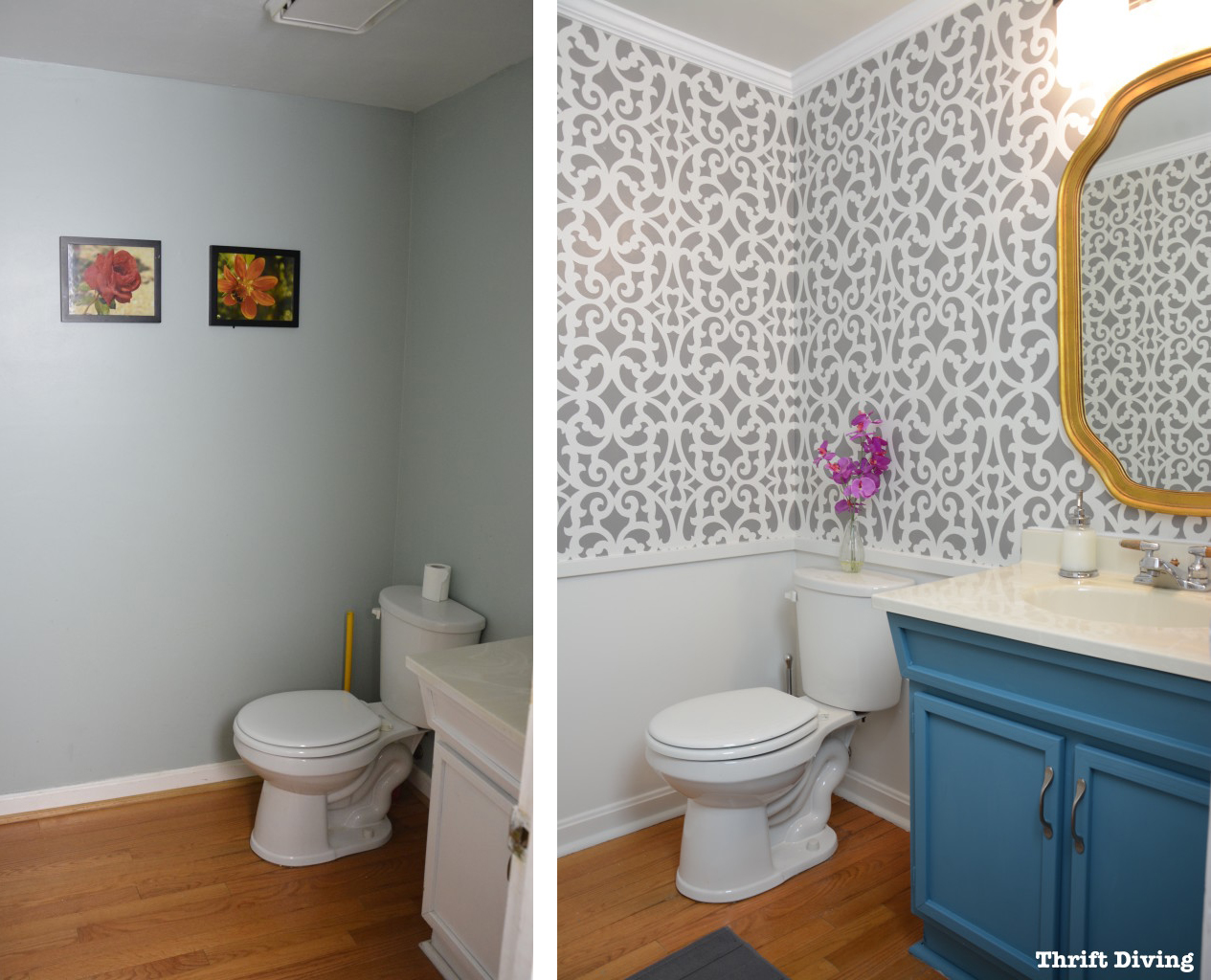 Q: What's your biggest pet peeve?
Serena
: "Oh, I could name a lot of pet peeves! However, my biggest pet peeve would have to be rude drivers—the people who you've given the courtesy of pulling in front of you, or some other kind gesture on the road, and they don't even raise a hand in "thanks." Gets to me every time."
Q: What's one thing you think people should splurge on?
Serena
: "Electronics! As thrifty as I am when it comes to home decor, you'd never know that I splurge on the best electronics (computers, cameras, tablets, etc.) I can afford. Technology changes so quickly that people should buy the best they can afford so that their electronics are relevant for at least a couple of years."
Q: What's the best way for homeowners to incorporate the latest trends into their decor? How can you tell what has staying power and what doesn't?
Serena
: "Only decorate with the latest trend if it's something you truly adore. You should never feel pressured to incorporate trendy decor just because someone else did it or else you risk your home not really being a reflection of you. If you absolutely love a trend, don't worry about whether it has staying power. Simply because you love it means it has staying power, regardless of whether the trend goes in or out."
Think Serena should be named Home + Garden Trendsetter of the Year?
Vote for her on Facebook
! She'll be presenting on March 19th at the Denver Home Show where our audience and celebrities judges
The Fabulous Beekman Boys
will help decide if she, or one of our two other finalists, will earn the title.