Temporary Treatments for the Restricted Renter
Dec 7, 2018, 20:30 PM
Have you been letting limitations like renting hold you back from making your space a home? Or maybe you just don't want to completely commit to new decor. Not all additions and solutions to make a super homey space have to be permanent. Happening January 11–13, 2019 at the RBC Convention Centre, the Winnipeg Renovation Show not only has great advice and tips for renovations but also helpful design recommendations for homeowners and renters alike! We've caught up with local design studio Ivy Row Design, designer of our new Show feature Temporary Treatments to provide 5 easy non-permanent decor tricks for any space ahead of the Winnipeg Renovation Show!
1. Wall Decal or Peel & Stick Wallpaper
These prove to be a great way to add some interest to your walls and to create a feature wall in your space to make it your home. They are easy to install and the best part? They can be taken down easily with no damage to the wall. It's a win-win solution!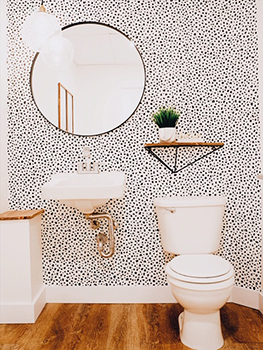 2. Leaning a Floor Length Mirror
Many people wall mount their mirrors, however, an easy non-permanent trick is to lean it against a wall. Often times in rentals, space can be tight and incorporating a mirror in your space will give an illusion of a larger, brighter space. It's as easy as that!
3. Command Hooks/Picture-hanging Strips
When you're unable to put holes in your walls, command hooks or strips are your best friend. They can be used to hang gallery walls, large pieces of art and so much more. You can even use self-adhesive hooks that look like a traditional wall hook, spray paint them to add your personal style and use them in your front entry to hang your belongings.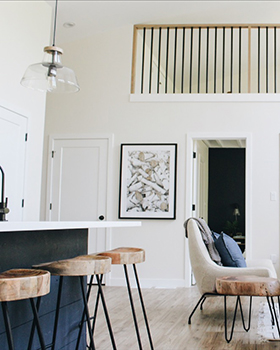 4. Peel & Stick Tiles
There's a huge variety of peel & stick tiles with neat patterns and colours. They can be used to cover ugly floors and to add a backsplash to a kitchen or bathroom. As a bonus, they are easy to use and can be removed with little damage to the original surface!
5. Lighting
Changing out lighting is one of the best ways to make an impact in your space! Ceiling light fixtures can be easily swapped out by yourself or an electrician if you're unsure of what to do. When it comes time to move, it's easy to reinstall the old fixture. There are also many stylish plug-in fixtures that can be used for bedside lighting or be hung from the ceiling using a simple hook.
Feeling inspired to redecorate with these tips and tricks provided by Ivy Row Design? Go all out! Regardless if you're in a house, condo or apartment, these tricks can help to make your space feel homey. Don't be afraid to ask your landlord to know just how far you can go with your decorating. Who knows, maybe they will allow you to paint a room or the entire apartment! After all, paint is a cost-effective way of dramatically transforming a space and it's never permanent!
Want more helpful advice to make your home feel like home? Be sure to check out our fresh feature Temporary Treatments at the Show for inspiration, no-commitment decor options, and to see these tips in action. Click here to buy your tickets online and save $3, courtesy of All Canadian Renovations!