Influential Winnipeggers Reimagine the Bar Cart in DIY Challenge
Jan 8, 2019, 14:26 PM
Can you imagine a bar cart as anything else other than a bar cart? Influential Winnipeggers are bringing forth their most daring designs in our new challenge for the Winnipeg Renovation Show, the Bar Cartistry Challenge. The pressure is on as local tastemakers work their DIY magic on a Sunnersta IKEA bar cart, with nothing but $50 worth of IKEA goods and paints provided by Rust-Oleum Canada. Who will you be rooting for? Read about the challenge participants below!
1. Shayna Wiwierski, A Pop of Colour
Winnipeg born and raised, Shayna is a full-time magazine editor and editorial director for a North American trade publisher, but her talent doesn't stop there. She channels her creativity into A Pop of Colour, a beauty blog focusing on beauty, lifestyle and travel. Her blog and Instagram is a testament to her ability to create and curate beautiful and valuable content. Follow along on her Bar Cartistry Challenge journey on Instagram, Facebook and Twitter!

2. Cassidy Coutts, Brains and Bronzed
Always striving to take budget to luxury, Cassidy of Brains and Bronzed uses her blog to share her tips for all things personal and professional, all while encouraging a life filled with travel and adventure. As an advocate to create the life you love, Cassidy stands by her words by using her creativity to create a colourful life. Keep up with her Bar Cartistry Challenge process on Instagram and Facebook.

3. Amanda Buhse and Tom Jansen, Coal and Canary
Co-founders Amanda and Tom of Canadian candle company, Coal and Canary, are the perfect combination of creative prowess, fragrance engineering skills and passion. At the forefront of the candle industry, this team is anything but short of dedication, innovation and passion. Follow their Bar Cartistry Challenge journey on Instagram and Facebook.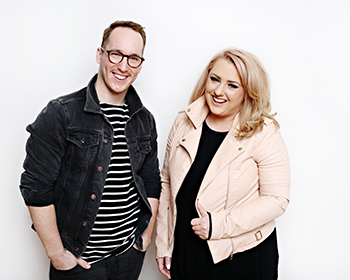 4. Cara Anderson, Plant Roost
Interior designer and plant lover, Cara grew up surrounded by plants, constantly gardening, strawberry picking and even working at a commercial greenhouse for a few years. She loves what plants can do for interior spaces, with their proven health benefits and ability to add character, liveliness, colour and texture to a space. Curious on what Cara will create? Follow along her Bar Cartistry Challenge journey on Instagram!
5. Brook Drabot, Brook Drabot Glass

Drawing inspiration from the natural world, Brook is a master at creating beautiful glass art pieces, jewelry and items for the home. Aiming to innovate and inspire with her handmade glass pieces, she is sure to bring her creativity to her bar cart design. Keep up with her Bar Cartistry Challenge process on Instagram!
These bar cart masterpieces will be on display at the Winnipeg Renovation Show from January 11-13, 2019 at the RBC Convention Centre and don't forget to vote for your favourite at the Show! If you see a bar cart you're interested in, you're in luck! Each of our participants will be giving away their DIY bar cart on Instagram after the Show ends – keep your eyes peeled! Click here to buy your tickets online and save $3, courtesy of All Canadian Renovations!