Meet Our headliners! Plus 3 tips for kicking off your DIY project from HGTV Canada Celebrity Contractor Bryan Baeumler
Nov 20, 2019, 17:25 PM
The Winnipeg Renovation Show is approaching and we're excited to be welcoming one of HGTV Canada's hottest stars, presented by RBC. Bryan Baeumler ofIsland of Bryan is returning to the HGTV Canada Lifestyle Stage this winter, presented by Kat Reno. Joining Bryan is local talent, with tips and tricks for everything from bathroom renos, to selecting the best furniture for your home. You won't want to miss this stellar lineup, so make sure to get your tickets for the upcoming Winnipeg Renovation Show at the RBC Convention Centre from January 10-12, 2020.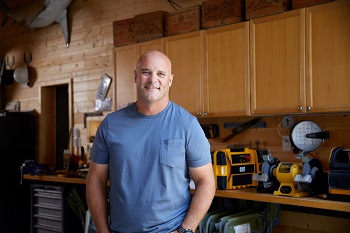 Canada's favourite handyman, Bryan Baeumler, has been living in the Bahamas with his family, where he has recently finished filming season 2 of HGTV Canada's Island of Bryan. Viewers watched the crew restore a small abandoned resort on South Andros Island throughout season 1 in record numbers, and you can get the chance to see him at the Winnipeg Renovation Show in person! To give a preview of what's to come, Bryan has shared some key tips for a successful DIY project.
1. Set your budget first. It's impossible to come up with a plan for a project until you have decided how much you want or are able to spend.
2. Plan your project. The more decisions you make before starting, the smoother your project will go. This includes drawings, selecting materials and finishes, lighting, plumbing fixtures etc. Having everything chosen, ordered and on site before you get started helps keep you organized and less stressed when it's time to get to work.
3. Be prepared to change the plan! Don't beat yourself up when you find something unexpected or decide to make some changes mid-project. It's okay to change your mind or veer off course a little. Enjoy the process and keep your eyes on the prize!
Learn all this and more during Bryan's HGTV Canada Lifestyle Stage presentations, Friday, January 10 at 6 p.m. and Saturday, January 11 at 1 p.m.
Stay tuned for the full HGTV Canada Lifestyle Stage schedule and get excited to see local favourites join Bryan at this year's Winnipeg Renovation Show! Prepare by getting your tickets ahead of time to save $2, courtesy of All Canadian Renovations!