Exhibitor Spotlight: RenovationFind
Feb 15, 2022, 20:24 PM
We're excited to have RenovationFind as a sponsor of the 2022 Winnipeg Renovation Show. Before you visit this innovative company at the RBC Convention Centre from February 18-20, please enjoy our brief interview with the RenovationFind team below.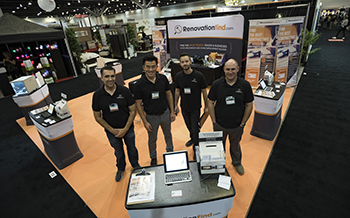 Q: How does your service work?
RenovationFind.com offers a free online directory of pre-screened and certified home improvement companies, contractors, and trades. Every company listed on www.renovationfind.com has passed this stringent screening process. We use a third-party organization to run background checks on essential criteria to provide homeowners with a listing of reputable, honest, and legitimate companies. Those criteria include financial and credit background checks, legal background checks, monitoring customer reviews and complaints, and checking for business licensing, insurance, and WCB coverage. If a company is a member of the Better Business Bureau, they receive a higher rating on the website. In addition, the third-party organization monitors the businesses on RenovationFind.com to ensure they continually comply with our high standards.
RenovationFind can help protect homeowners during home renovations by providing a directory of trustworthy and reputable home services companies. In addition to this service, we help promote good and ethical companies so they can grow their business. Promoting deserving businesses helps create a positive reputation for the home improvement industry. It is a win-win scenario for both homeowners and the companies on the website.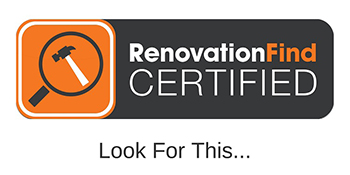 Q: What can we look forward to from you at the Winnipeg Renovation Show?
RenovationFind is setting up a booth at the show. We invite people to come by and learn more about what we do. At the booth, we are offering our Post a Project service. Homeowners can enter their project details at the booth, and we will send them to three relevant and reputable RenovationFind Certified companies in Winnipeg. Those companies will get in touch with them for more information and provide a detailed quote for their project. For example, if you want to replace your roof, we will send your project details to three of the best roofing companies in Winnipeg. Those companies will get back to you shortly, and you can start the process from there!
If you sign up for a RenovationFind membership at our booth, we'll put you in a draw for an iPad and $1,000! Your membership will also get your exclusive discounted pricing and promotions from select partner companies in Winnipeg. Membership can be a valuable asset for future renovations.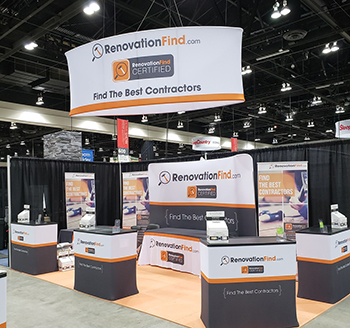 Q: What advice do you have for homeowners?
Research, research, research. Thoroughly researching a company can help you make sure you're hiring the right one. First, ask to see their credentials, including a valid business license, liability insurance, and WCB coverage. When hiring a RenovationFind Certified company, these things are taken care of for you. Then, ask for and check references. When asking for references, ask to speak to their three latest customers. Talking to their latest three will give you a better picture of the company since they can't pick and choose their best references.
If you're satisfied with their references and documentation, ask for an estimate. Their quote should be on paper and detailed, including a breakdown of the renovation costs, including things like disposal and permit fees. If you have concerns or questions, don't be afraid to ask. A reputable contractor will be transparent in quoting and will take the time to explain their process and answer your questions. Never let anyone start work on your home without a detailed, written, and documented contract first.
Q: What inspires your services?
I met and spoke with many homeowners through my granite countertop company and heard so many stories of people being ripped off by bad contractors during renovations. Contractors would take a deposit and disappear, suddenly go out of business during construction, or leave bad work or work unfinished. After hearing so many horror stories, I started thinking of a better way to connect homeowners with the solid, honest, and quality renovation companies out there. RenovationFind does just that.
Q: What is your favourite part of the Winnipeg Renovation Show?
We love meeting homeowners and helping connect them with the companies on our directory. If we can help someone find a reputable and honest contractor for their home project and promote a deserving company at the same time, we've helped both out! We want to improve the reputation of the renovation industry, and this show allows us to do that.
Q. Are there any success stories you'd like to share?
We've received a lot of feedback from homeowners that they are pretty pleased with RenovationFind.com. Having access to pre-screened, certified companies that are also continually monitored takes a lot of stress from hiring a contractor and the renovation process. Whether they need someone to design and build a deck, paint their house, or want quotes from the best electricians in Winnipeg, RenovationFind has helped make those connections. It has been positive for consumers.
For the companies on our website, we've had success marketing them to their target demographic. As a result, we've seen the companies on our site get new business. RenovationFind has helped them grow their presence with their profile and content promoted on RenovationFind.com.
Q: What can folks expect when they work with you?
If you're a homeowner, you can expect experienced, helpful, and honest advice on hiring a renovation company, trades or contractor. We are doing our due diligence regarding screening and monitoring the certified companies on our website. If you sign up for a RenovationFind membership, you'll get discounted pricing and promotions from specific home improvement companies in Winnipeg. You'll find a massive list of categories to choose from, including the best plumbers in Winnipeg, general contractors, home builders, drywall companies, siding and masonry contractors, landscapers, painters, and more!
If you're a home services company on our website, we will work hard to promote you to your target market. We offer our companies a suite of marketing services to do that, including email campaigns, blog and content marketing, search engine optimization and active social media posting and sharing. When your company is successful, so are we!