Exhibitor Spotlight: RenovationFind
Jan 5, 2023, 19:33 PM
We're excited to have RenovationFind as a sponsor of the 2023 Winnipeg Renovation Show. Before you visit this innovative company at the RBC Convention Centre from January 13-15, please enjoy our brief interview with the RenovationFind team below.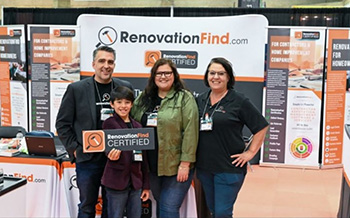 Q: How does your service work?
RenovationFind.com is a free online directory and vetted and certified renovation companies, trades, and contractors. The companies on our website have undergone extensive background checks, including legal and financial checks. Additionally, they've provided proof of business licensing, WCB coverage, and insurance. Then, a third-party organization monitors the companies for complaints and reviews to ensure they comply with our high standards.
Having a go-to listing of certified contractors helps reduce the stress around hiring a company and renovating. You'll feel comfortable hiring a RenovationFind Certified company because you know all the background checks are complete. Plus, we help promote those reputable and deserving companies so they get more jobs. It's positive for homeowners and business owners.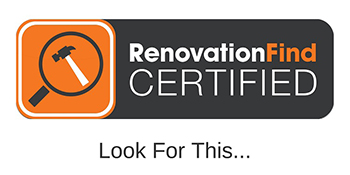 Q: What can we look forward to from you at the Winnipeg Renovation Show?
We will have a booth set up at the show and invite everyone to come say hello! We'd love to chat about your projects and help you find a trustworthy contractor for your renovations. Plus, we are giving away $1,000! Sign up for a RenovationFind Membership, which gives you exclusive promotions and discounted pricing from Winnipeg partner companies, and we'll enter you to win $1,000.
We will also be helping homeowners use our Post a Project service at the booth. You can submit your project details in a simple form. We'll send them to three relevant RenovationFind Certified companies in Winnipeg. Then, those companies will contact you directly if they need more information and provide a quote. For example, if you're remodelling the bathroom, we'll put you in touch with three of the best bathroom renovation companies in Winnipeg. You can learn about those companies, get your estimates, and go from there!
Q. What advice can you offer homeowners?
I cannot stress enough the importance of researching any company you hire to work in your home. Check for a business license, liability insurance, and WCB coverage. You should also find out their experience and find a company that has a proven reputation for quality work and good customer service. When you hire a RenovationFind Certified company, we've done those checks for you and more.
It would help if you also got a few references. For example, I like to ask the company for their three most recent jobs for references. Then I can get the best idea of what it's like to work with them. If you want, ask to see photos of their work too.
Finally, make sure to get estimates from multiple contractors. Getting more than one quote will give you an idea of how much things cost before proceeding. The cheapest estimate is not always the best, so choose one that is competitive. Otherwise, you might hire a company that lacks experience or uses poor-quality materials. And always get those estimates in writing. Never accept a verbal estimate or contract.
Q. What inspires your services?
I also own a granite company and have many years of experience working in this industry. Unfortunately, I've heard terrible stories about homeowners being taken advantage of by bad contractors. Everything from getting left with unfinished work, poor quality work, or even a company going bankrupt halfway through the job. You can avoid these stressful situations by hiring a certified and trustworthy company on RenovationFind.com.
We also wanted the chance to promote ethical and deserving companies in Winnipeg. Not only is it good for business, but it also helps remove the black mark left on the renovation industry's reputation. It's a win-win.
Q. What is your favourite part of the Winnipeg Renovation Show?
Our favourite part of these shows is meeting homeowners and helping them connect with reputable contractors for their projects. We know how stressful finding a contractor can feel, and helping them find a company they can trust is very rewarding. Plus, we love promoting our RenovationFind Certified companies and helping their businesses grow.
Q. Are there any success stories you'd like to share?
RenovationFind is a data-driven website. As such, we rely on data collected in surveys and other methods to improve our site. In these surveys, homeowners report having positive experiences working with RenovationFind companies and finding companies in the directory. It has reduced stress, which is one of our main goals. So whether they need a bathroom renovation company, plumber, electrician, drywall contractor or Winnipeg's best painting contractors, they'll find one on our website.
For the companies, we've had success marketing them to their target demographic. We offer a suite of digital services that help generate leads, increase web traffic, and develop new business. They also benefit from certification because it helps them strengthen a brand of trust. Trust is a huge selling point in the renovation industry.
Q. What can people expect when they work with you?
Homeowners will find a free online listing of experienced, reputable, and trustworthy home improvement companies and renovation contractors on RenovationFind.com. Our screening and monitoring process ensures the companies on our website are ethical and have a proven reputation for quality work and customer service.
And you can sign up for RenovationFind Membership at the show or online. When you do, you'll get exclusive promotions and discounted pricing from our select partner companies in Winnipeg. You can find Winnipeg's best basement development contractors, siding contractors, window companies, garage builders, landscapers, and many others.
If you own a renovation or home improvement company, you'll benefit from our certification and other marketing services. Using multiple digital marketing services, we'll promote your company to homeowners in your target market. These include email campaigns, blog and content marketing, search engine targeting and optimization, social media marketing, and other business-building services.
We look forward to working with you!